School Mission
To accompany the integral development of the child towards the achievement of a high academic level and high human quality through the scientific Montessori method. We empower the citizens of the future to be free, creative, autonomous, capable of making decisions, confident and secure. To guide children, valuing their own nature, towards experiential and meaningful learning in a climate of trust, harmony, respect and collaboration, without interruptions to experience new challenges.
Visión de la Escuela
Ser una institución distinguida por la integridad del método, la coherencia de las experiencias compartidas por todos los miembros de la comunidad educativa y la excelencia en la calidad de las competencias desarrolladas por los niños. Contribuir a formar ciudadanos autónomos, críticos, conscientes y comprometidos.
Meaning Snails
Under the name chosen for our school, Montessori Caracoliris, hides a very special meaning, which represents our work in the integral development of the child. The internal compartmentalization of a snail simulates growth from the inside, becoming bigger and bigger, until it reaches maturity. The Nautilus is characterized by its beauty, strength to endure and integrity. The colors that we have assigned to this image represent areas of development, qualities and characteristics that are at the forefront of our methodology.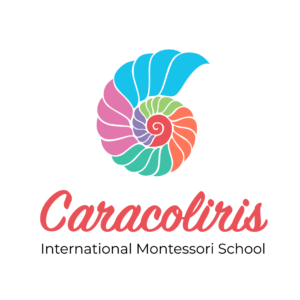 Green
Calm, hope and satisfaction. To know how to wait, to dedicate time and to trust in oneself.



Blue
Loyalty and personality to decide.
Purple
Nobility and respect for others and oneself.
Orange
Movement and spontaneity to be free.



Red
Love and passion for what we do and for those around us.
Yellow
Intelligence and strength to face great challenges.
Violet
Spirituality and intuition.
Believing in the inner capacities to be able to do.
Respect and honesty for oneself and others.
Community of sensitive observation, cooperation, inclusion and lifelong learning
Responsibility in our own thoughts, actions, choices and decisions.
Humanity to learn from the adversity of our personal mistakes and challenges.
Constructive autonomy to experiment.
Education for Peace and Emotional Development
Training and vocation in the Montessori philosophy.
Commitment in the cultivation of relationships, free choice and social improvement.
Information +34 606 064 429 / +34 625 906 714
Avda. de la Música, 120 Alhaurín de la Torre (Málaga)